Sunstar announces the creation of the "Sunstar Robert J. Genco Endowed Chair in Oral Biology"
10/11/2020
In order to pay tribute to the late Dr. Robert J. Genco who has been a leading figure in the field of oral biology and periodontal medicine and a highly respected advisor, the Sunstar Group has donated $1 million to establish an endowed fund at the University at Buffalo's (UB) School of Dental Medicine.
Sunstar's donation will be used to establish a new faculty position, named as the "Sunstar Robert J. Genco Endowed Chair in Oral Biology", that recognises and supports faculty members, teachers, scholars, researchers, and applied learning innovators, who facilitate medical and dental collaboration in oral biology and periodontal medicine at the School of Dental Medicine. The Sunstar Robert J. Genco Endowed Chair in Oral Biology will also promote new advances in periodontal research, education, and outreach by providing critical resources to further cutting-edge scholarship and research.
For more than three decades, researchers from the SUNSTAR Group and UB have enjoyed a highly productive relationship, linked by a commitment to exploring the integral relationship between oral and systemic health. SUNSTAR was a pioneer in championing the idea that oral health has a deep connection to the health of the whole body; UB broke important ground in this area by establishing the first Department of Oral Biology and creating the first doctoral program in this domain.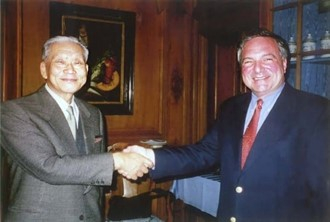 Dr. Genco was a member of the National Academy of Medicine – one of the three national academies of science – a singular distinction awarded only to the most outstanding scientists. He also chaired the SUNSTAR Foundation's World Periodontal Research Awards Selection Committee and led the selection of SUNSTAR's first Periodontal Link Award, which seeks to increase public awareness to the relationship between oral and general health. He also held editorial positions with 11 scientific journals, edited or co-edited 10 books, and authored more than 325 scientific articles and publications.
For more information about the "Sunstar Robert J. Genco Endowed Chair in Oral Biology" fund, please visit this site.